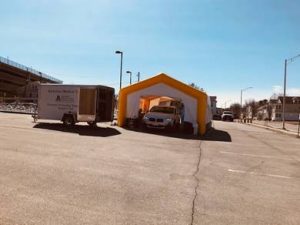 As of Tuesday, March 17, 2020, there is a COVID-19 testing Van on Seymour Street in the BMC parking lot, Pittsfield.  They are testing folks that are symptomatic and have a doctors order.  Also the Public Health Department in Pittsfield has an epidemiologist on Staff, Norma Macillroy, who can be contacted instead of contacting the state public health office for information.
Testing for COVID 19 requires an order from a medical provider (DOCTOR) and is limited to individuals who meet certain criteria. If you are concerned about COVID19, seek evaluation and advice from a medical professional:
Contact your primary care provider.
You can also see a medical provider via video with the  BHS Telemedicine provider.  To inquire about a telemedicine appointment, you can call 1-855-BMC-LINK (855-262-5465)
The Emergency Department is NOT performing testing for COVID19 – services at the Emergency Department are for people who are acutely ill.